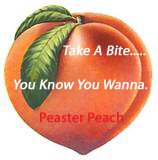 Here's my first blog feauturette! Meet
Peaster Peach
...
Hi! Im Peaster Peach aka Jessica.I spend most of my days at home hanging out with Monsta Baby. He is my only child and the most amazing thing to ever happen to me. I have the most amazing fiance ever Big Sexy. We are getting married this upcoming October and I can't wait! Welcome to my blog. It's mainly just a bunch of random things that happen in our day. Hope you like it!
♥
Why Do You Blog?
It's a way for me to express my self and feel like I have interaction with someone besides a 8 month old poop machine!
♥
Tell me something UNIQUE about yourself
.
Something unique about me....not sure,well maybe that peasterpeach is my nickname but I also have peachs tattooed on my foot!
I love this blog, and she is just too funny! So Check her out! And let her know you found her on my blog ☺